News
Which is a better choice for living – a detached or a terraced house?
Even though statistics show that the residents of Latvia mostly live in flats, many of them cherish a dream of having a more spacious home and are already working towards being able to live in a detached house. A bigger sense of freedom, more green spaces and less noise from neighbors – those are just a few advantages of living in a detached house. However, newly built terraced houses are also a great alternative to apartments. What's the difference between living in a detached house and a terraced house and what to expect from living in each of them? Find out in this comparison by Domuss.
The advantages and disadvantages of a detached house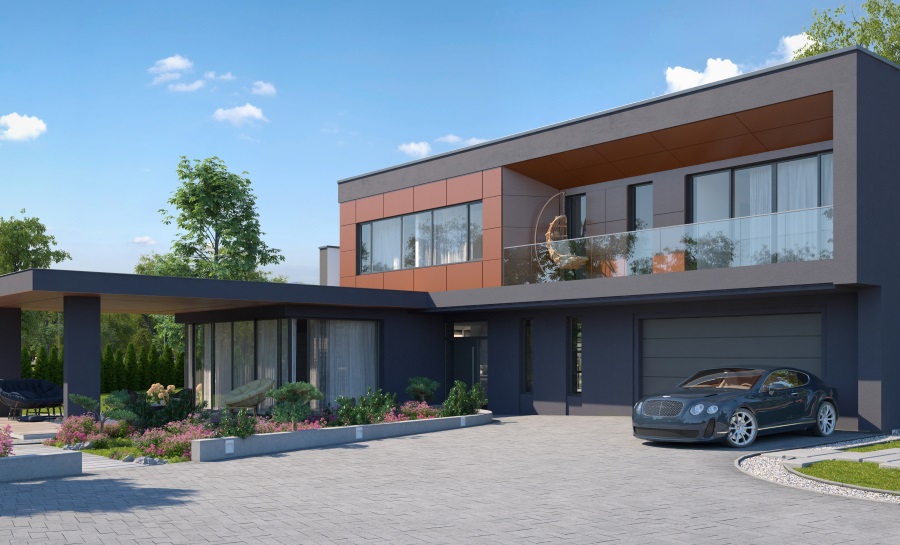 Contrary to country houses and farmhouses, a detached house is defined by its location inside of a city or in the suburbs of one. While there are a few historically preserved detached houses that have remained in the central part of Riga, most of the detached houses in Riga are found in greener neighborhoods of the city – for example, in Mežaparks. Several hundred detached houses were built in Mežaparks at the beginning of the 20th century, and it's still a popular place for leisure and living, that continues growing to this day.
The biggest advantage of a detached house is privacy; it's an oasis of peace in the midst of a city. Nearly all detached house designs also feature a garden as a bonus, which the owner can shape as they like. It also offers the possibility to conveniently park a car or to set up a playground for children. Depending on the lifestyle of its owners, a detached house opens up the opportunities for holding garden parties, sunbathing and relaxing outdoors without having to leave your home.
However, it must be taken into consideration that such self-sustainability requires considerable investment. Older detached houses in peripheral areas aren't very desirable. There also aren't a lot of historic detached houses on offer, and those that are available are mostly in such a condition that the costs of restoration or reconstruction required to make it suitable for the demands of modern living are bigger than the costs of purchasing a newly built property.
Luckily, new functional and appealing detached houses are continuously being built in Riga and its surroundings all the time. Such a property still serves as a status symbol – there's a reason why detached houses are also named villas. A great location, spacious area, modern architecture and picturesque terrace, as well as high-quality construction materials and indoor furnishings, don't come cheap. Moreover, the maintenance costs will also be higher than they would be for an apartment.
Detached houses in Mežaparks and in the suburbs of Riga
In terms of luxury villas, Mežaparks in Riga still hasn't been beaten by any other area in Latvia. It's an exclusive residential area, that offers its inhabitants the harmony of nature and an urban environment. It has also always stood out with exceptional architecture, starting from wooden art nouveau buildings to functionalism and modern, contemporary architecture. At the moment, there are villas and plots of land for the construction of detached houses available at the unique residential development «Mežaparka Rezidences». There are also three twin villas available there – an appealing option for two friendly families.
Meanwhile, less spacious detached houses with a more affordable price can be found in new residential villages outside of Riga, for example, «Lapsas» in Babīte, «Dailas» in Ādaži or «Jaunzemes» in Salaspils.
The advantages and disadvantages of a terraced house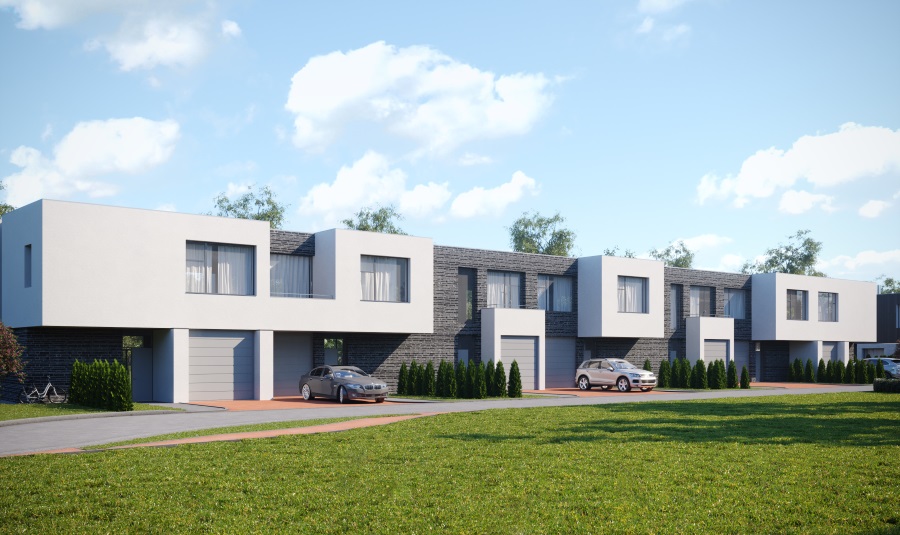 Terraced housing is the perfect middle road between living in an apartment or a detached house, therefore, it has lately conquered a consistent share in the Latvian real estate market. This type of housing has been well-known in Europe and the USA for a long time, but in Latvia, its increasing popularity has only begun in the last few decades. The price of a terraced house will usually be less than that of a similarly sized detached house, due to lower construction costs. However, that doesn't mean a decreased quality of life – terraced houses are usually found in developed areas with great infrastructure and environment. They also usually have a thought-out and rational design.
Terraced houses are most often chosen by young families, that want to enjoy the convenience of living in a city — an easy commute to the workplace, school or nursery and the availability of shopping and leisure in the vicinity. At the same time, a terraced house is usually bigger than an apartment, besides it also offers an opportunity to conveniently park your car and enjoy at least a small green space next to the house. However, it won't be the right option for those who want a spacious garden next to their house, because the area of land that's adjacent to the house will be smaller than it would be for most detached houses.

Unlike living in a detached house, terraced housing also involves the presence of neighbors nearby. If the building is constructed from quality materials, noises from behind the wall shouldn't ever be a problem. However, when it comes to bigger issues, for example, redecoration or renovation, the opinion of your neighbors will have to be respected as well.

Terraced houses in Mežaparks and Salaspils
«Mežaparka Rezidences» offers newly built terraced houses in Mežaparks. These are spacious and modern buildings, with a private terrace for enjoying your morning coffee. The partial finishing will let you furnish your home according to your taste, either doing it yourself or by recruiting an interior designer.
Another great option is Salaspils, from which the capital can be quickly accessed by car or public transport. A village of well-planned terraced houses named «Jaunzemes» is currently being developed there, offering houses with spacious rooms and a terrace, that are surrounded by nature.
In conclusion
Which is a better option – a terraced house or a detached house? The answer depends on your priorities and finances. Terraced houses combine the feeling of a detached house with the convenience that a good apartment can provide, meanwhile detached houses let you enjoy increased privacy. Both options have their advantages and only each homeowner themselves will be able to figure out which of them are more important for their family.