News
Which areas of Riga and its surroundings are the best places to live for families? Domuss recommends
While students and young professionals are able to relocate between rental apartments in Riga and other big cities accordingly to the location of their university or workplace with ease, everything changes once family becomes a couple's priority. Closeness to green spaces, pleasant areas for a walk with a stroller, convenient shopping and a safe route to a good school suddenly become important factors when choosing a home. Which is the best place for living to avoid parting from all the opportunities and the dynamic life that a capital can provide while also enjoying a harmonious environment with your family? There's no shortage of appealing options in the surroundings of Riga – let's find out more about six of them!
Ādaži
The town of Ādaži has historically been formed around the centers of two large manors that were located in the area. The inhabitants of modern Ādaži have also been attracted by the convenient mix of closeness to Riga and the excellent opportunities for outdoor relaxation. The river of Gauja flows through Ādaži, but the town is separated in two parts by its arm Vējupe. In the summers, the banks of the river are brought to life by sunbathers and people enjoying a swim or various sports activities. Every year both the locals and guests are also entertained by the Gauja Festival, offering a varied program of events. Meanwhile, in the winters, there is an ice-skating rink available in Ādaži. There's every reason to believe that the quality of life in Ādaži will continue to improve – the town centre has recently been rebuilt and rejuvenated, meanwhile the local council has already set in motion the plans for building a new school that will supplement the existing schools and nurseries.
Apartments and houses in Ādaži
The supply of apartments and residential houses in Ādaži is quite wide-ranging. New and modern residential villages with detached houses are currently being developed, offering both completed buildings as well as empty plots of land. Among them is the village «Dailas», which already offers completed homes for viewing.
In brief: Even though it's very close to Riga, Ādaži is a self-sufficient place with a developed cultural life and a wide range of sports activities on offer. It will be the right place for harmonious people who believe in the feeling of home and the expression «a healthy mind in a healthy body».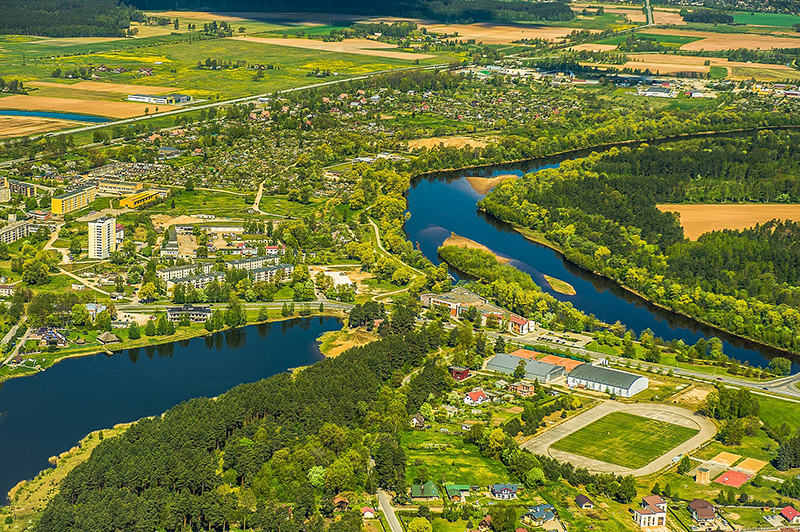 Ādaži. Image by: Ilze Filipova. Source: lv.wikipedia.org
Babīte
Surrounded by a pine forest, Babīte offers comfortable living conditions for young families. The people who find their home in Babīte are often tranquility seekers and nature lovers – a magnificent rhododendron nursery is located nearby that surprises everyone with a diversity of color during the blooming season. Several nature trails and bathing places, as well as good fishing spots are also located in the vicinity. The same can also be said about schools, after-school activities and playgrounds. One of the biggest advantages of Babīte is that it's an equal distance away from both the lively center of Riga, as well as the sandy beaches of Jūrmala, which can be easily reached by both car and train.
Apartments and houses in Babīte
The range of available apartments and detached houses in Babīte also offers newly developed areas covered by detached houses. For example, in the midst of a pine forest, you'll find the cozy residential village «Lapsas».
In brief: The people most likely to buy a house or an apartment in Babīte are those who are still searching for the answer to the question – is it better to live in the city or the countryside? Or those who have already decided that they want to combine best of both in the same place.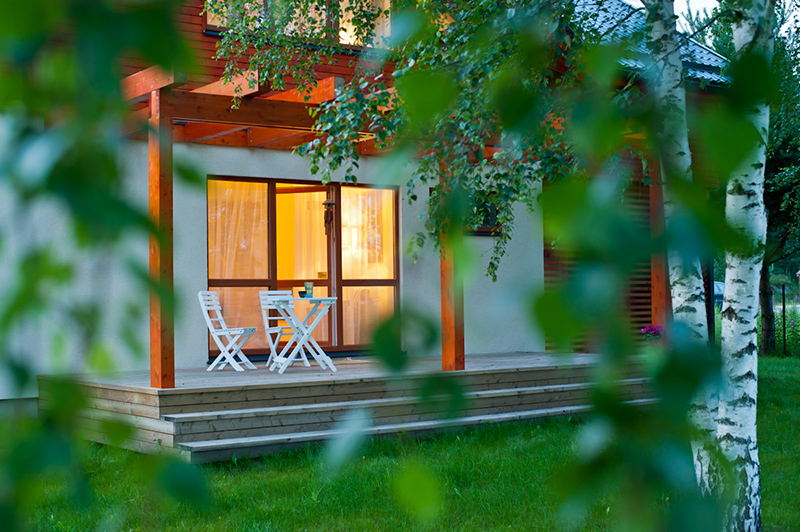 Babīte. Image by: Imants Ķīkulis. Source: Nordic Villages.
Mārupe
Mārupe has been an appealing place to young families for years now. Its border with Riga is almost unnoticeable, however life in Mārupe flows differently, in comparison to the city center. Luxurious detached houses and well-planned apartments in Mārupe find their owners fairly quickly. They are highly appreciated by people who work in Riga but want to light up a barbecue, walk barefoot on a lawn and invite friends and family over for a good time at the end of a working day on the weekends. Even though it seems like all the real estate in Mārupe has already been «snagged» some time ago, it continues to grow and develop, always offering new places for comfortable living.
Apartments and houses in Mārupe
The residential village «Mežavēji» in Mārupe offers the opportunity to build a home accordingly to the needs of the family. Everything else – from developed infrastructure to city utilities — has already been provided.
In brief: The choice in favor of life in Mārupe almost doesn't require any explanation. A townhouse or an apartment in Mārupe is what many families dream of, thanks to both its advantageous location, as well as its atmosphere.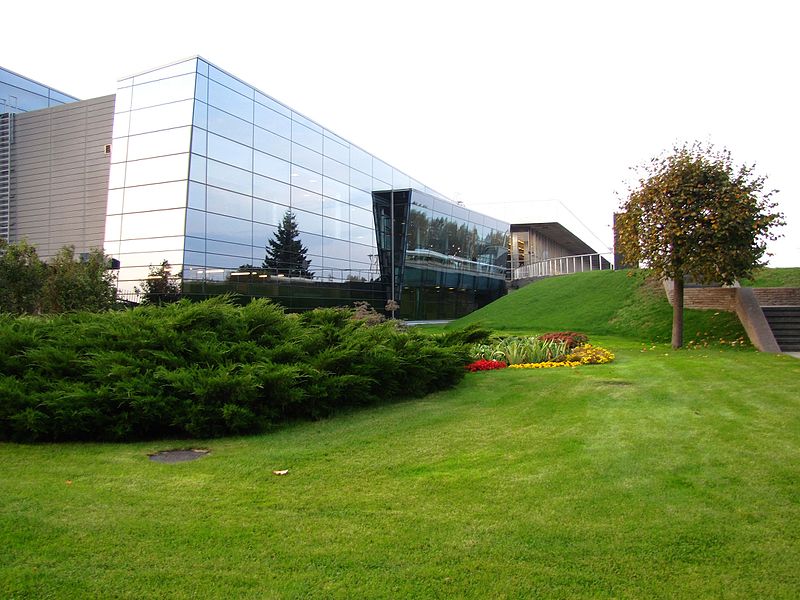 Mārupe. Image by: Dmitrijs Purgalvis. Source: lv.wikipedia.org
Mežaparks
Mežaparks, known under the name Ķeizarmežs until the beginning of the previous century, is one of the most beautiful and greenest areas of Riga. It's a popular place for leisure – families with children can devote their time to sports activities outdoors or visit the Riga Zoo. Meanwhile, those who like romantic evenings can choose from several excellent restaurants or simply have a picnic on the bank of Ķīšezers lake. Despite its proximity to the city center and public transport connections, Mežaparks allows to take a long breath and simply enjoy life in various ways.
Apartments and houses in Mežaparks
Apartments in Mežaparks are often found in renovated historic buildings, meanwhile those who prefer modern architecture have the option to buy a home in one of Mežaparks' new developments. For example, the Mežaparka Rezidences development offers life in a green and neat environment.
In brief: Life in Mežaparks will be greatly appreciated by people with a high regard for esthetic things and those who like to enjoy life. Cultural events, outstanding architecture, a forest and a lake – all located nearby.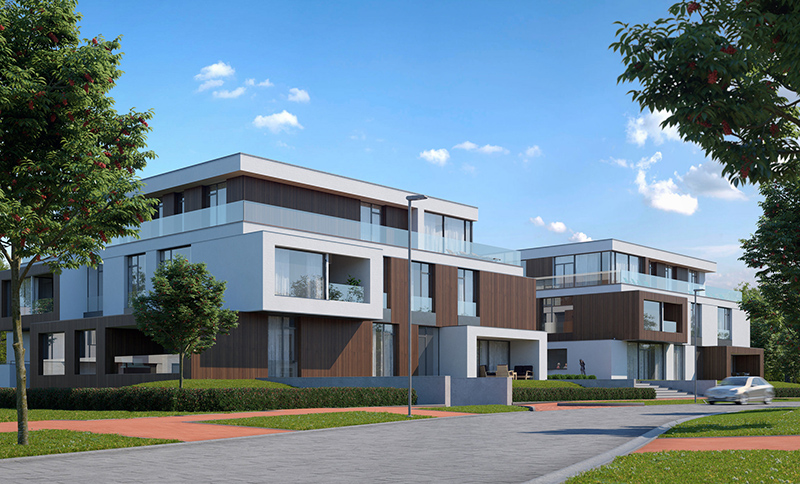 Mežaparks. Image by: Didzis Grodzs. Source: Mežaparka Rezidences.
Baltezers
A house near the Baltezers lake – this combination of words has been sounding very appealing to Latvians for a long time. The lake and melodies of birds, walks in the forest, uninterrupted tranquility and good neighbors. Located between the Lielais Baltezers and Mazais Baltezers lakes, the history of the neighborhood is signified by its historic Lutheran church, meanwhile its future is formed by the young families that have chosen it as their home. Here, inspiration for arranging your garden is provided by the well-known tree nursery «Baltezers», meanwhile the relaxation after a tense working week can be found in the nearby SPAs and wellness centers. Various shops and cafes are also found at an arm's length from Baltezers, meanwhile the kids will enjoy the impressive displays at Riga Water Supply Museum.
Apartments and houses in Baltezers
The range of apartments available in Baltezers are mostly found in new developments, however it's still possible to build a new residential house by buying a plot of land in Baltezers.
In brief: Life in Baltezers is still glamorous. This will be the right place for those who want to be proud about their place of residence and for those who love holding garden parties and waking up to a view of the lake.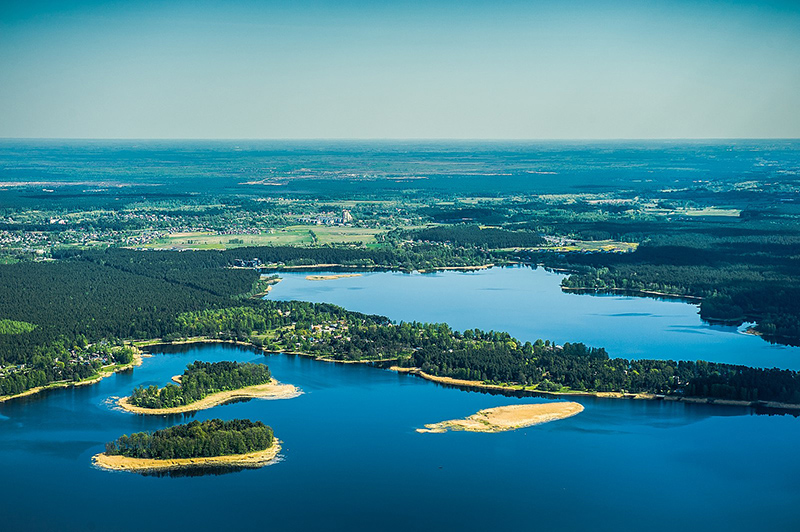 Baltezers. Image by: Ilze Filipova. Source: lv.wikipedia.org
Piņķi
Highly regarded schools, an ice rink for future hockey professionals and lovely detached houses contrast with Soviet-era residential blocks. The biggest advantage on the weekends – Jūrmala is just a stone's throw away. Piņķi has seen rapid development in recent times and it doesn't seem to be stopping anytime soon. More and more new houses, apartments and public institutions are being built every day.
Apartments and houses in Piņķi
Apartments and detached houses in Piņki can be found in different price categories – starting from affordable solutions in older houses to luxurious apartments in new developments.
In brief: Piņķi is a suitable place of residence for practical and mobile families, looking for a home outside of the cluttered city center. Because all everyday necessities can be easily reached by car.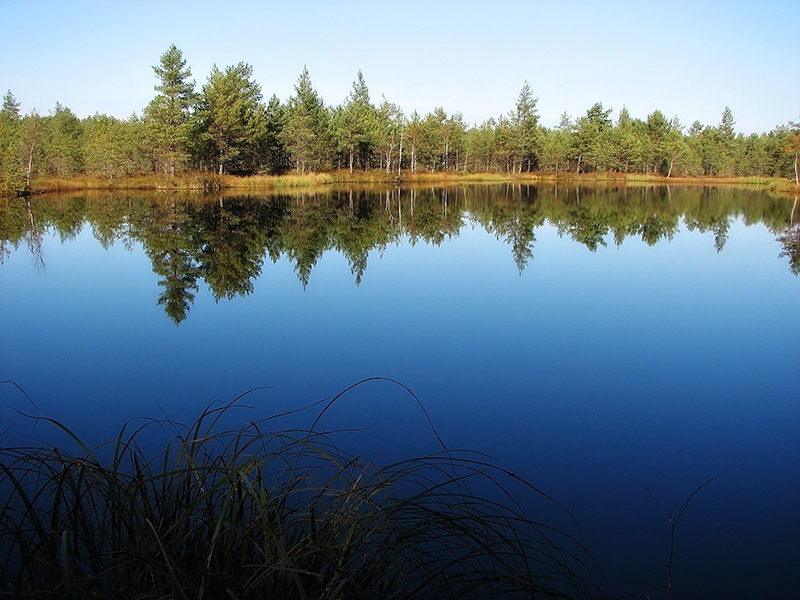 Piņķi. Image by: alinco_fan. Source: lv.wikipedia.org